See
The Difference

With WHOLE LEAF ALOE LOTION
Unlike other skincare products, our Moisturizing Lotion is made up of the highest content of pure organic Aloe Vera on the market. is free of harsh chemicals and synthetic ingredients to keep you and your skin healthy.

Whether it's a Sunburn, Dry Skin, or a mild skin condition, use Aloe Vera Moisturizing Lotion daily to protect your skin from weather and sunlight.

Firms and tightens skin helping to combat aging skin signs on the body, hands, and face. Promotes skin tone softness and is suitable for sensitive skin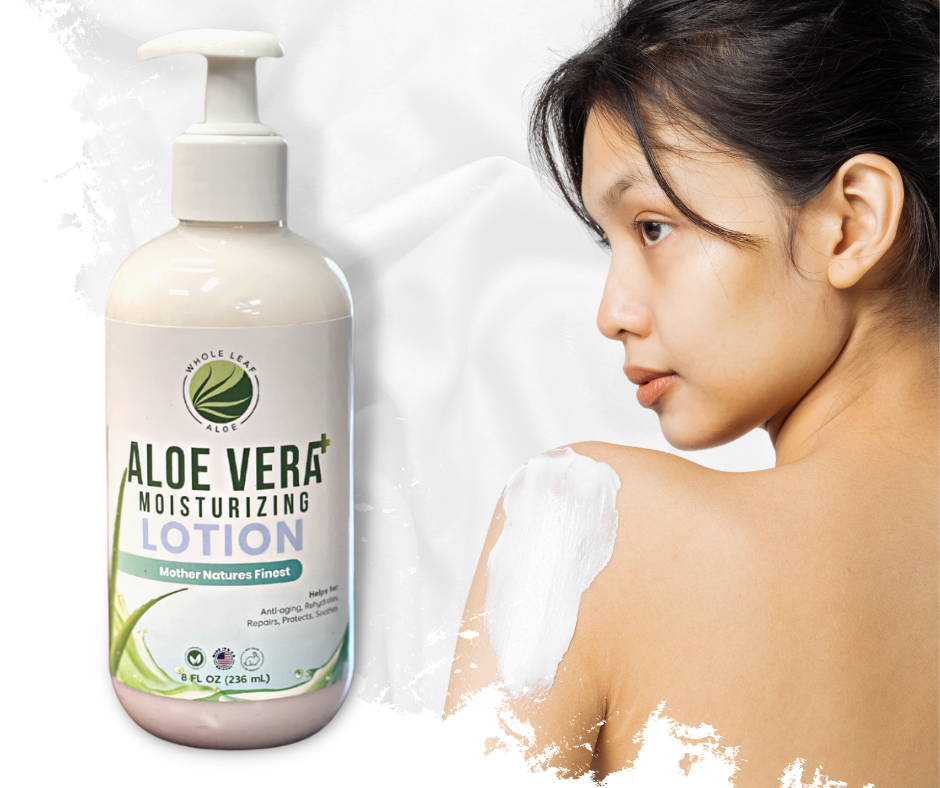 Fabulous moisturizer for face and body!
Not only good moisturizer but love the healing power of it
Cured my chronic dry skin
Rich but not oily.
Suffered from a skin condition for years.
This is healing it.
Soothing Lotion
I was turned onto this company by a friend who said this was the best lotion they had ever used plus it had brought them some unexpected pain relief to a bruised area. I tried it myself by putting it on a bruise I had and it seemed to dissolve in a day and it no longer was painful. I now use it for all my moisturizing and minor pain needs and I highly recommend it!
Acid reflux
Wonderful product! Helped my gerd reflux issues, tremendously.
I will continue to use the unflavored juice and reorder
Healing
Had a third degree burn. It was getting better but slowly as you would expect used your moisturizing product and I was amazed at the healing of the burn.