Aloe Vera Slush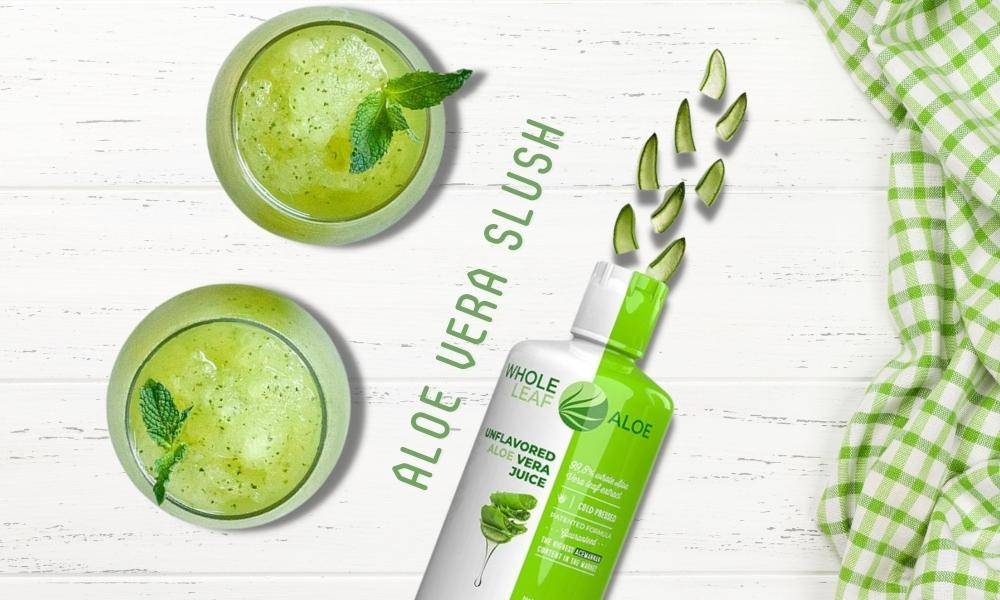 Aloe vera juice is made by crushing the gooey flesh of the aloe vera plant leaf. It's then purified and filtered into a thick liquid that blends beautifully into smoothies and juices.
In the spirit of refreshing summer beverages, we combined Unflavored Aloe Vera Juice with freshly squeezed lemons and mint to make a slushie that's a whole lot tastier and healthier than what you'd find at a convenience store.
Aloe vera juice is hydrating and chock full of phytonutrients, which support a healthy liver. It also boosts the immune system and supports healthy digestion.
Join our mailing list and never miss an update!
2 ½ cups filtered water, divided
Small handful of fresh mint
To make the simple syrup, combine the sugar and ½ cup of water in a small saucepan over low heat. Stir until the sugar is completely dissolved. Remove from heat.
Pour the simple syrup, Aloe Vera Juice

,

lemon juice, and remaining 2 cups of water into your blender along with a small handful of fresh mint. Blend until smooth and taste. If you'd like your slush a bit sweeter, add another pinch of sugar. If the mixture is too sour (this will depend on how sour your lemons are), add another splash of water.
Pour the mixture through a fine mesh strainer to catch any large pieces of mint or lemon pulp.
Remove the bowl for your ice cream maker from the freezer. Set it on the base and turn it on. While the bowl is spinning, pour in the aloe vera lemonade mixture. Churn until the liquid is mostly slush; this should take about 20 minutes.
To serve, use a spoon to scoop the slush into four glasses. Drizzle with any remaining liquid and garnish each glass with a mint sprig.
This summery slushy drink is so refreshing and hydrating